My Blog
Posts for: May, 2019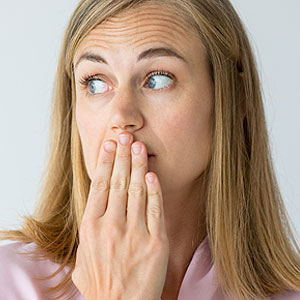 A loose adult tooth isn't normal. It could be loose because it's been subjected to high biting forces like those that occur with a tooth grinding habit. Or, it could be the result of periodontal (gum) disease or some other infection that has weakened some of the tooth's supporting gums and bone. Whatever the underlying cause, we'll need to act quickly to save your tooth.
Our first step is to find out this exact cause—that will determine what treatment course we need to follow. For a tooth grinding habit, for example, you might need to wear an occlusal guard or have your bite (teeth) adjusted. With gum disease, we'll focus on removing dental plaque, the thin film of bacteria and tartar (calculus) fueling the infection. This stops the infection and minimizes any further damage.
While we're treating the cause, we may also need to secure the loose tooth with splinting. This is a group of techniques used to join loose teeth to more stable neighboring teeth, similar to connecting pickets in a fence. Splinting can be either temporary or permanent.
Temporary splinting usually involves composite materials with or without strips of metal to bond the loose tooth to its neighbors as the periodontal structures heal. Once the tooth's natural attachments return to health, we may then remove the splint.
There are a couple of basic techniques we can use for temporary splinting. One way is to bond the splint material to the enamel across the loose tooth and the teeth chosen to support it (extra-coronal splinting). We can also cut a small channel across all the affected teeth and then insert metal ligatures and bond the splint material within the channel (intra-coronal).
If we're not confident the loose tooth will regain its natural gum attachment, we would then consider a permanent splint. The most prominent method involves crowning the loose tooth and supporting teeth with porcelain crowns. We then fuse the crowns together to create the needed stability for the loose teeth.
Whatever splinting method we use, it's important to always address the root cause for a tooth's looseness. That's why splinting usually accompanies other treatments. Splinting loose teeth will help ensure your overall treatment is successful.
If you would like more information on treating loose teeth, please contact us or schedule an appointment for a consultation. You can also learn more about this topic by reading the Dear Doctor magazine article "Treatment for Loose Teeth."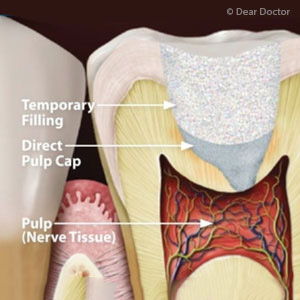 The sooner you get treated for tooth decay, the less likely you'll lose your tooth. That could mean a simple filling—or you might need a root canal treatment if decay has reached the inner pulp.
There's also another procedure for advanced decay called pulp capping. It's a bit more involved than filling a cavity but less so than a root canal. We can use it if decay has exposed or nearly exposed the pulp, but not yet infected it—otherwise, you may still need a root canal treatment to remove the diseased pulp tissue.
There are two types of pulp capping methods, direct and indirect. We use direct pulp capping if the pulp has been exposed by decay. After isolating the tooth to protect other teeth from contamination, we remove all of the decayed dentin up to the pulp. This may cause some bleeding, which we'll stop, and then clean and dry the tooth area.
We'll then apply a protective biocompatible material directly over the pulp to promote healing and protect it from further infection. We then restore the tooth's appearance and function with a life-like filling.
We use the indirect method, a two-part process separated by six to eight months, when the pulp tissue is close to the surface but not yet exposed. We initially remove the majority of decayed tooth structure, but leave some of it in place next to the pulp chamber. Although this remaining dentin is softened and decayed, we'll treat it with antibacterial chemicals, then cover it with a biocompatible material and a temporary filling.
Over the next several months the treated structure has a chance to re-mineralize as it heals. We then remove the temporary filling and assess the level of healing progress. If the regenerated dentin appears healthy, we can then remove any remaining decay and restore the teeth as we would after a direct pulp capping.
At the very least, pulp capping could buy your affected tooth time before a root canal will finally be needed. Under the right circumstances, it's an effective way to save an otherwise lost tooth.
If you would like more information on tooth decay treatments, please contact us or schedule an appointment for a consultation. You can also learn more about this topic by reading the Dear Doctor magazine article "Pulp Capping: A Procedure that may Save a Decayed Tooth."