My Blog
Posts for tag: orthodontic treatment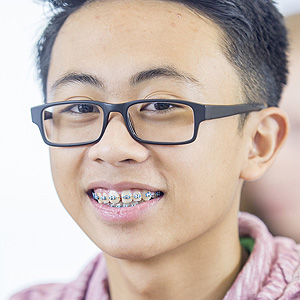 It's a common sight to see someone wearing braces—and not just teens or pre-teens. In the last few decades, people in their adult years (even late in life) are transforming their smiles through orthodontics.
If you're an adult considering treatment to straighten your teeth, this particular dental specialty might be an unfamiliar world to you. Here are 3 things you may not know about orthodontics.
Orthodontic treatment cooperates with nature. There would be no orthodontics if teeth couldn't move naturally. Teeth are actually held in place by an elastic tissue called the periodontal ligament that lies between the teeth and bone. Small fibers from the ligament tightly attach to the teeth on one side and to the bone on the other. Although it feels like the teeth are rigidly in place, the ligament allows for micro-movements in response to changes in the mouth. One such change is the force applied by orthodontic appliances like braces, which causes the bone to remodel in the direction of the desired position.
Treatment achieves more than an attractive smile. While turning your misaligned teeth into a beautiful, confident smile is an obvious benefit, it isn't the only one. Teeth in proper positions function better during chewing and eating, which can impact digestion and other aspects of health. Misaligned teeth are also more difficult to keep clean of bacterial plaque, so straightening them could help reduce your risk of tooth decay or periodontal (gum) disease.
Possible complications can be overcome. Some problems can develop while wearing braces. Too much applied force could lead to the roots dissolving (root resorption), which could make a tooth shorter and endanger its viability. Braces can also contribute to a loss of calcium in small areas of tooth enamel, which can make the teeth more vulnerable to oral acid attack. However, both these scenarios can be anticipated: the orthodontist will watch for and monitor signs of root resorption and adjust the tension on the braces accordingly; and diligent oral hygiene plus regular dental cleanings will help prevent damage to the tooth enamel.
If you're dreaming of a straighter and healthier smile, see us for a full examination. We'll then be able to discuss with you your options for transforming your smile and your life.
If you would like more information on orthodontic treatment, please contact us or schedule an appointment for a consultation. You can also learn more about this topic by reading the Dear Doctor article "Moving Teeth with Orthodontics."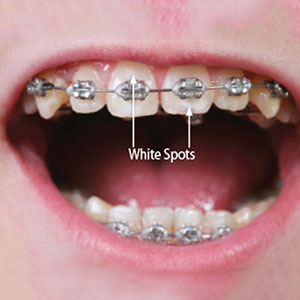 After months of wearing braces it's time for the big reveal: your new and improved smile! Your once crooked teeth are now straight and uniform.
But a look in the mirror at your straighter teeth might still reveal something out of place: small chalky-white spots dotting the enamel. These are most likely white spot lesions (WSLs), points on the enamel that have incurred mineral loss. It happens because mouth acid shielded by your braces contacted the teeth at those points for too long.
Most mouth acid is the waste product of bacteria that thrive in dental plaque, a thin film of food particles that can build up on tooth surfaces. High levels of acid are a definite sign that plaque hasn't been removed effectively through brushing and flossing.
But normal hygiene can be difficult while wearing braces: it's not easy to maneuver around brackets and wires to reach every area of tooth surface. Specialized tooth brushes can help, as well as floss threaders that help maneuver floss more easily through the wires. A water irrigator that uses pulsating water to remove plaque between teeth is another option.
However, if in spite of stepped-up hygiene efforts WSLs still develop, we can treat them when we've removed your braces. One way is to help re-mineralize the affected tooth surfaces through over-the-counter or prescription fluoride pastes or gels. It's also possible re-mineralization will occur naturally without external help.
While your teeth are sound, their appearance might be diminished by WSLs. We can improve this by injecting a liquid tooth-colored resin below the enamel surface. After hardening with a curing light, the spot will appear less opaque and more like a normal translucent tooth surface. In extreme cases we may need to consider porcelain veneers to cosmetically improve the tooth appearance.
In the meantime while wearing braces, practice thorough dental hygiene and keep up your regular cleaning visits with your general dentist. If you do notice any unusual white spots around your braces, be sure to see your dentist or orthodontist as soon as possible.
If you would like more information on dental care during orthodontic treatment, please contact us or schedule an appointment for a consultation. You can also learn more about this topic by reading the Dear Doctor magazine article "White Spots on Teeth during Orthodontic Treatment."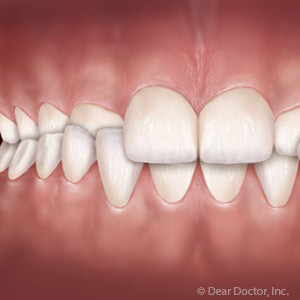 Poor bites, also known as "malocclusions," can have a dramatic impact on mouth function and appearance. Moving teeth to better positions will solve most of these bite problems — but not all.
A case in point is a malformed maxilla, the skeletal structure formed by the union of the upper jaw and the roof of the mouth (the palate). If the rear portion of the maxilla develops too narrowly, the back teeth will bite abnormally inside the lower teeth while the front teeth bite normally, creating what's known as a crossbite. People with this kind of malocclusion often shift their lower jaw to one side to bite down completely.
This can be corrected without too much intervention if the problem is diagnosed while the person is young. This is because the maxilla is actually formed from two bones that don't completely fuse together in the center of the palate until just after puberty. An orthodontic appliance known as a palatal expander takes advantage of this slight gap. The metal appliance is placed along the narrowed portion of the palate in the rear of the mouth: four metal "arms," two on each side, attach to the inside of the back teeth with a tension device between them that extends the arms outward to put pressure against the teeth.
Every day the patient or a parent uses a special key to turn the tension device and cause it to expand slightly, placing additional outward pressure on the jaw. This will widen the gap in the center of the palate and new bone will grow to fill in the increased space. Over time this will cause the rear portion of maxilla to widen.
While effective, a palatal expander may not work in every case, and it must be done before the two bones fuse permanently. When it can be used, though, it's a proven treatment that can restore proper bite function, as well as improve your child's smile.
If you would like more information on palatal expanders to correct certain bite problems, please contact us or schedule an appointment for a consultation. You can also learn more about this topic by reading the Dear Doctor magazine article "Palatal Expanders."